The Genes and Addiction Center's Research Experiences for High School and Undergraduate Students (REHU) provided six participants an opportunity to conduct 10-week summer research projects with their mentors. REHU students attended a working lunch with their peers, a journal club to present results about a published neuroscience paper. They wrote a research paper and presented their work on the symposium in front of their peers, mentors and colleagues.
REHU Symposium was held on August 18, 2017 in the Gordon Center for Integrative Science at the University of Chicago.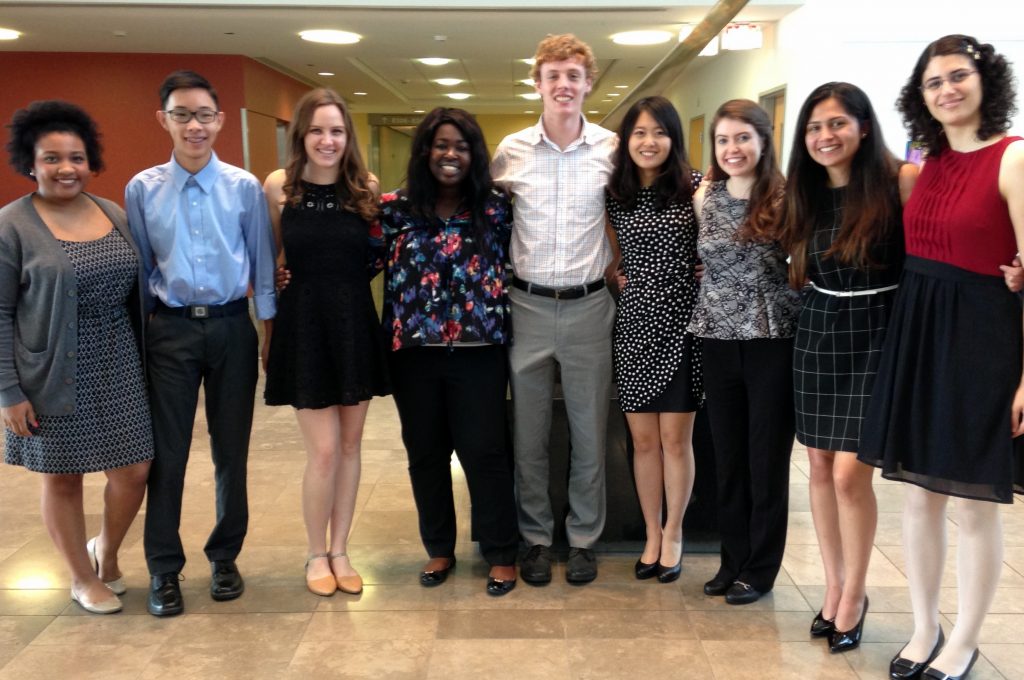 REHU-2017 Students:
Kia Thomas, Undergraduate, Emory University. Worked in McGee Lab, University of Chicago.
Research project: "Validating a Mouse Model of Parkinson's Disease".
Daniel Liu, High school student, Torrey Pines High School. Worked in Palmer Lab, University of California – San Diego.
Research project: "FastQParse: An Integrated Toolkit for Preprocessing Sequenced Reads".
Noelle Ozimek, Undergraduate, University of London. Worked in Solberg-Woods Lab, Wake Forest University.
Research project: "Depressive Like Behavior in Heterogeneous Stock Rats".
Delna Kapadia, Undergraduate, Smith College. Worked in Meyer Lab of Motivation and Addiction, University at Buffalo.
Research project: "The Effects of Nicotine and Ethanol Co-Administration on Conditioned Place Aversion and Conditioned Taste Aversion".
Jessica Bezek, Undergraduate, Vassar College. Worked in Flagel Lab, University of Michigan.
Research project: "Characterizing Stress Responsivity in Sign-Trackers and Goal-Trackers".
Raven Davis, Undergraduate, University of Memphis. Worked in Chen Lab, University of Tennessee Health Science Center.
Research project: "The Use of Convolutional Neural Network to Classify Axon Death in Mice Optic Nerves".
Contact Dr. Barry Aprison or Dr. Oksana Polesskaya if you have questions.